---
Norwich Picnic Review
---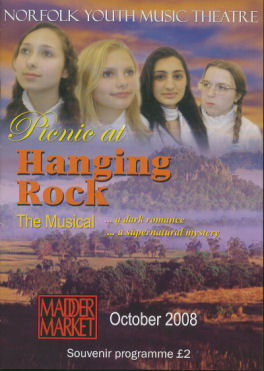 We, my partner Sue and myself, arrived in Norwich with the memories of the Chichester premiere performance firmly in place. There was no doubt that the Norwich production was going to be compared against that and it would be a hard act to follow. How could it not.
Norwich was wet and miserable the night we attended. The rain had just stopped as we arrived at The Maddermarket Theatre, in the heart of the city. The venue has a nice feel to it, not large, but comfortable and friendly. It was then that I was reassured that we had come to the right performance as the ticket had only mentioned the performing theatre and not the production.
Taking our seats, there was a buzz from the audience. An expectation of things to come. The cast had been milling around the audience, dressed in their costumes, selling programmes and raffle tickets. Then the lights dimmed and the performance started.
The stage itself was similar to that of Chichester's, however, at Norwich it was a traditional (elevated) stage, where as Chichester was a flat open space which the audience was part of.
One of the things we noticed was the replacement of the song "Those Foolish Girls" with "The Hanging Rock Calls". I know Brian didn't think that the former track worked, however, I liked it and missed it.
I thought some of the chorus singing was hesitant, as if waiting for reassurance from other cast members that they were correct to start singing and that they wouldn't be on their own. Other times the vocals, both singing and dialogue, did not carry - and I was worried for the audience who were behind us as we were in the fifth row. There was also dance sequences where the performers did not look and move naturally.
However, it is important to recognise the age of the performers in this production. The average age is less than that of it's Chichester counterpart, as the following table will show.
| | | |
| --- | --- | --- |
| Chichester | Character | Norwich |
| 17 | Miranda | 14 |
| 19 | Irma | 16 |
| 16 | Edith | 14 |
| 24 | Mrs Appleyard | 18 |
| 17 | Sara | 11 |
| 17 | Michael | ? |
| 17 | Dianne | 13 |
| 16 | Shaman | 17 |
| 17 | Edward Whitehead | 17 |
| 17 | Albert | ? |
There were memorable performances from, Charley Nicol who stood out for me as Edith Horton - playing the role well, Ellie Hitchcock-Wyatt voice as Sara Waybourne was marvellous and I also thought one of the Watchers stood out (sorry I don't know his name) as if he was born to the stage. I'm sure we will see more of him in the years to come.
Mark Hughes
---
Date attended: Saturday 1st November, evening (final) show.
Preview Articles
Norfolk Youths Tackle 1970s Classic
Norfolk Youths Take On Picnic Play
Young Norfolk Actors Back With Hanging Rock Musical
Review Articles
Picnic At Hanging Rock Norfolk Youth Music Theatre