---
Friends of Brian Spence
---
Home > Friends
---
MANOLO ANTONANA (drums) was a member of Brian's band during the release and promotion of the album Reputation. Manolo went on to become a member of Rhode Island Red along with Lawrence Archer (guitar), Gary Lieberman (bass) and Mike Dyer (vocals).
LAURENCE ARCHER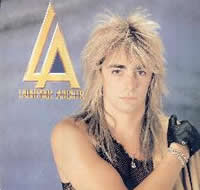 (guitar/vocals) Laurence was a member of rock bands Stampede, Phil Lynott's Grand Slam and UFO. He also performed the guitar solo on "You Got The Whip".
"AMAZING" ALEX ARTHUR (boxer) Alex is a boxer who originates from Edinburgh. Alex uses tracks created by Brian, three personal pre-fight ring battle anthems to inspire him. alexarthur.com/
MICHAEL BALL (vocals) former London west end stage musical singer who went solo in 1991 and performed four Brian Spence produced and written tracks on his third solo album, One Careful Owner.
WAYNE BICKERTON (Songwriter and bass) Wayne was originally a member of the Pete Best Three (the original drummer with The Beatles) and then moved into songwriting with his writing partner Tony Waddington. Bickerton and Waddington wrote most of the early music for Bilbo Baggins before Brian started writing himself. Wayne went on to become head of A&R at Polydor UK and then to occupy senior executive positions within the Performing Rights Society and SESAC International.
ALAN BLAKELEY (Songwriter and Guitar) Alan was a member of The Tremeloes before turning his hand to song writing.
RAY CARUANA (singer) Ray was the UK's entry into the Eurovision Song Contest in 1989 along with Live Report with the song "Why Do I Always Get It Wrong", which came second that year. Brian, with Steve Khan, recorded Ray performing "Ocean Deep", which despite getting a record deal did not see the light of day.
COLIN CHISHOLM (lead vocals) member of Bilbo Baggins and Bilbo during the 1970's. Close friend of Brian who also performed together as "Chisholm & Spence" in the early 1980's and again in 1998 supporting Don Williams on his UK tour.
Colin recorded a Brian Spence written track, called "Hibernian" (also called "Hib's Heroes" praising Hibernian Football Club - based in Edinburgh. He also recorded a track called "Hearts Songs" about Hearts of Midlothian Football Club, also based in Edinburgh.

SEAN CLARKE (bass) Has played bass on record for Michael Ball, as well as toured with with Brian (source). Currently part of The Colour House Theatre where he is involved in a children's production of Hansel and Gretel.
TOMMY CONWELL (guitar and singer) Brian toured America with Tommy in November 1988. Tommy's music is described by All Music Guide as Roots Bar Rock
BOB CREAMER (rhythm guitar) Bob was a member of Brian's first band, before he left school, called Expo. Bob now runs OSB Computer Systems, who design a build computers for the audio industry.
SEAN CREASEY (guitar) Sean answered an add for a guitarist for Brian Spence in Melody Maker. Sean later formed his own group, La Salle, which toured with groups such as Scorpions and Kiss. Sean is currently involved with FX Rentals, a London-based recording studio.
IAN CURNOW Met Phil Harding whilst working for Stock Aitkin and Waterman's Hit Factory. Phil and Ian have produced and written hits for Boyzone, including their number 1 single "Words". Harding and Curnow remixed Brian's "Travellin' Man".
MIKI DALLON (Producer) Miki had been a well known singer and producer through the 1960's and 1970's, also having his own performing career in the late 1950's and early 1960's. He worked with Mickie Most (a very famous producer).
ALAN DAVISON (record company owner) Alan owned Lightning Records the company the released Bilbo's singles in the late 1970's. Lightning tended to focus on reggae music, rather than pop/rock music that was Bilbo's diet, having had a major hit with Althia and Donna's Up Town Top Ranking, which knocked Mull of Kintyre by Paul McCartney's Wings off the number one UK chart position
JIMMY DEVLIN (bass) member of Bilbo Baggins and Bilbo during the 1970's. Former manager of Simple Minds and managing director of Polydor he is now current managing director of Global Fulfillment, an Internet order management company. Chris Lowe of the Pet Shop Boys said of Jimmy "We just had a meeting with Polydor about Spaghetti and the bloke who's in charge, Jimmy Devlin, used to be in a group Bilbo Baggins and was kind of involved in that whole early Bay City Rollers thing. He's very amusing." Source
DAVID DUFF (ex-chairman of Hibernian Football Club) David became chairman of Hibernian FC in 1987 and Brian was asked to create a football anthem for the club. This he did with the help of friend and Bilbo Baggins lead singer Colin Chisholm - creating the track called Hibernian. David Duff himself became embroiled in the club's financial difficulties, some would say that he helped to create it, and later stay at one of Her Majesty's hotels as a result.
MICKY FITZSIMON (friend) a non-musician friend of Brian. When Brian first moved to London, Brian lived with Micky for the first 5 years. They are still friends and Micky's name has appeared on every Brian Spence related album since as a thank you. Micky is a fun guy to be around and loves dancing.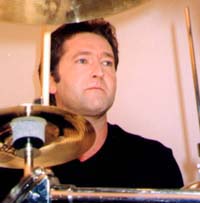 GEOFF DUGMORE (drums) one time member of the band Killing Joke, now one of the UK's most in demand session drummers having worked for, apart from Brian Spence, Stevie Nicks (Fleetwood Mac), Dido, Russell Watson (the opera singer), Tina Turner, Robbie Williams, etc. Geoff played a major part on "Brothers" and "Reputation" albums.
GRAHAM EDWARDS (bass) Played the bass parts of the album "Reputation".
NICK GARVEY (producer/guitar) member of bands such as Ducks Deluxe (1975) and The Motors (1977) who had hits with "Dancing The Night Away" and "Airport". He started producing in 1980. Nick produced the "City of Shadows" track for "PI - Private Investigations" Movie with Pete Glenister.

PETE GLENISTER (producer/guitar) According to the liner notes for the soundtrack album of P.I. Private Investigations Pete is a fully trained doctor who prefers to play guitar. He was Kirsty MacColl's guitarist before becoming a producing and working with people such as Bruce Foxton (The Jam), Alison Moyet, Johnny Marr and Terence Trent D'Arby. Pete is the guy on the right in the picture on the left.
BRIAN GORDON (vocals) Gordon was a member of Brian's first band, before he left school, called Expo. They toured Edinburgh for a year before going their separate ways.

PHIL HARDING (producer and mixer) started as a tape operate at the Marquee Studios in London, in 1973, before becoming and engineer at the age of 19. He gained a reputation as a specialist remixer before teaming up with Stock, Aitkins and Waterman in the early 1980's. It was during time time that he met Ian Curnow and formed a partnership and started their own studio called The Strongroom. Phil is currently chairman of the Music Producers Guild. Harding and Curnow remixed "Travellin' Man".
CHESNEY HAWKES (singer) Son of Tremeloes Chip Hawkes, Chesney appeared in Brian's stage version of the musical "MacGregor's Trap" in the lead role. The musical was performed at the Edinburgh Fringe Festival in 1995 and was sold out every night.
STEWART IRVING (lead vocals and guitar) hails from Dundee, Scotland, and co-founder and member of The Wish along with Debbie McKenna. Stewart was the lead singer with Ballyhoo, a South African band, from 1981 to 1991. He had a solo hit in SA with "Superstar" (written by Mark Gray), which reached no. 6 on the Radio 5 charts in 1985, and later released "Heart of Stone" before emigrating to the UK.
VIRGINIA IRVING formerly the manager of The Wish and wife of Stewart Irving, a member of the band. Virginia has worked as a graphic artist and in the music industry for 20 years. Virginia and her husband, Stewart returned to her native South Africa in 2005.
GERALD JOHNSON (keyboards) An engineer as well as a keyboard player Gerald was credited on the Brothers album. Gerald has also worked Funky Monkey, St Etienne and Peter Banks (Yes).
LOUISE KENNY (singer) part of the London club circuit for many years and part of Sister Act, a tribute to the women in music. Louise used to regularly appear with Brian and Debbie at The Old Blue Last having also she has worked in musicals, television and doing studio sessions. She played Jean in Brian's musical "MacGregor's Trap". She has also worked with Peter Green, as a backing singer for the Peter Green Splinter Group' Time Traders album, which was released in 2001.

BILL KENWRIGHT OBE (Producer, Actor) Ken has appeared in both "Coronation Street" (as Gordon Clegg) and "Carry On Matron" and started working as a producer when he was too famous for his role in "The Street" to get work as an actor. Bill was named as the producer of Brian's stage musical based on Kidnapped, for the London West End. Unfortunately this did not come to fruition.
STEVE KHAN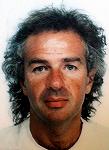 (producer/manager/promoter) Although Steve normally works within casinos he meet Brian when recording Ocean Deep with Ray Caruana. Steve and Brian later worked together, with Debbie McKenna, on "I Who Know Nothing" under the name Fax-U. Steve is now based in Greece but he still has musical associations representing Jack Harris (Alan Parsons Project) and Abri Van Stratton (a white South African singer / song writer / guitarist).
KIP KRONES (manager) an American artist manager who lived in London. He was Brian's manager during "Brothers" and "Reputations" period. He was also managing director of Columbia Records in the UK, the label Dusty Springfield was on at the time. He now lives in Nashville, Tennessee.
DANNY LICHFIELD (singer and writer) Danny and Brian Spence are twins. They like the same things, such as clothes, boots, etc. The only difference is the age gap, Danny is still in his twenties (born around 1979). At the time of writing this (July 2005) Danny and Brian have written about 15 tracks together. Danny has a belter of a voice and should not be missed if the opportunity arises.
GARY LIEDEMAN (bass guitar) Gary was a member of Brian's live band, along with Lawrence Archer, in 1988 appearing at the Marquee Club in London. He went on to work with Adrian Smith (Iron Maiden) as part of his Psycho Motel side projects.
GORDON LIDDLE (drums) member of Bilbo Baggins and Bilbo during the 1970's, where he was known as Fid. He went back to school, at the age of 28, and eventually became a sheriff (judge) at Perth Sheriff Court.
LIGHTNING THE WONDER HORSE (er... horse). Lightning is/was(?) a horse and played a major roll on Brian's Travellin' Man single. Without Lightning this track would surely have been radically different. ;-)

DOMINIC MARSHALL (director and choreographer) Dominic was the director and choreographer for MacGregor's Trap, the stage musical Brian Spence wrote and performed at the Edinburgh Festival Fringe in August 1995. Dom trained at Rambert School of Ballet and performed in lead roles in "The Sleeping Beauty" and "The Nutcracker" before turning to choreography, creating his own ballets. The space here does not do justice to Dom career so if you want to know more click on the following link. http://www.dominicmarshall.co.uk/
ROY MARTIN (lead guitar) a member of Brian's first band (before leaving school) called Expo. They toured Edinburgh for a year before going their separate ways. According to Bob Creamer, Roy is still in the music business.
GORDON MCINTOSH (guitar) member of Bilbo Baggins and Bilbo during the 1970's.
ALAN MCBLANE (Marketing Man) Alan works as a marketing consultant in the music business advising on strategies - owning the company MCB3 Marketing. Apart from working for Brian, getting a mention on Brothers, he has worked with Pinmonkey and Thea Golmore amongst others.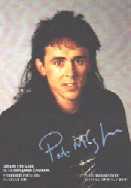 PAT MCGLYNN One time member of the Bay City Rollers who also had his own group, called The Pat McGlynn Band, in which Brian Spence was a member. However, this was a different Brian Spence who played drums. Whilst searching for "our Brian" I sent an e-mail to Pat in the hope that he knew Brian, he replied "I know Brian from his Bilbo Baggins days. Good friend, top bloke." Pat too is a top bloke for even responding to pushy me.

DEBBIE MCKENNA (vocals) Brian's wife and musical partner who performs with Brian in and around London most weekends occasionally with and Tammy Stone (Debbie's sister). Debbie is one of eight children and daughter of early 1960's singer Ricky Stevens.
NIGEL (Chopper) PALMER (Studio Sound Engineer) Worked at the Scarf Studio in Mile End, East London, after bring involved with The Tweets' follow up to "The Birdie Song", Zodia Mindwarp, Roland S. Howard (The Birthday Party) and The Firm (Star Trekkin'). Nigel also gets a mention on the Brothers album.
TAM PATON (manager) apart from managing Bilbo Baggins Tam was better known for managing The Bay City Rollers, before parting company with the band.
JOANNE RAMSEY (singer) part of Sister Act a tribute to women in music with Louise Kenny, Joanne also appeared as Catronia, Davie Balfour's love interest in Brian's musical "MacGregor's Trap".

STEWART ROSEMUND (The Whizz Kid) (singer/mc) Stewart appeared with Debbie McKenna on the track and video of Holiday, a garage version of the Madonna hit.
DOUGLAS SPENCE (brother) Douglas lives next door to Brian in London. He says that Brian is a good neighbour. hmm.
KENNY SPENCE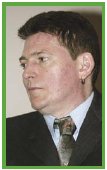 (brother) One of Brian's brothers, who manages Gilmerton Children's Centre and jointly manages Edinburgh's Lone Fathers Project. Kenny lives in Edinburgh and is qualified in social work and in child protection.

STUART SPENCE (brother and bass) This brother of Brian ran the Bilbo Baggins fan club for a period and also played bass on Brian's tour of the USA to promote the "Brothers" album.
TOM AND MARGARET SPENCE (parents) Tom, Brian's father, died in 1986. Margaret, Brian's mother is still very much alive.
DUSTY SPRINGFIELD (vocals) singing legend who covered Brian's track "Reputation". Brian was not involved in the recording, although it is reasonably faithful to Brian's original.
HENRY SPURWAY (manager and promoter) Henry became manager of Bilbo after they parted company with Tam Paton. He went on to promote Brian and Colin Chisholm in their post Bilbo days as Chisholm and Spence. An article about Henry's life can be found on the articles page or by clicking on the following link. Bet Your Life.
ED STASIUM (producer/percussion)Legendary producer, who has produced so many groups that the list would fill this page. However, a sample of the names would include The Ramones, Julian Cope, Living Color, Soul Asylum, Motorhead, The Dickies, The Searchers, Joe Strummer, Freddie Mercury, etc. plus Brian Spence.
RICKY STEVENS (Vocals) Debbie's father, who has a hit with "I Cried For You" in late 1961.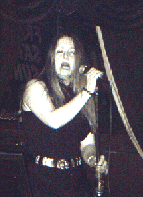 TAMMY STONE (vocals) Debbie McKenna's sister who regularly performed with Brian and Debbie at The Old Blue Last in London every Sunday. The Wish song Baby Blue is thought to be written about Tammy, who holds a space in Debbie's heart.
STEPHEN W. TAYLER (saxophone/woodwind/engineer/mixer/producer) many talented individual best known for his engineering talents.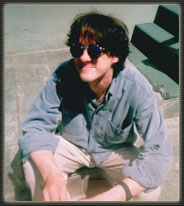 He owns his own studio called Metropolis, based in London. Produced the "Reputation" album with Brian, as well as adding recorders and saxophones.
BOB TOMSON (director) Bob has worked with Brian on a number of musical projects for the stage, including Picnic at Hanging Rock. Bob's credits include being the director of both the West End and Broadway versions of Willy Russell's Blood Brothers. It is hoped that Brian and Bob's partnership will prove successful when Jeannie Skye hits the stage.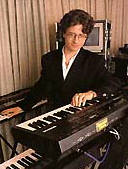 PETER VETTESSE (keyboards) Peter was in Bilbo for a short period, afterwards he hooked up with Jethro Tull in 1982 as keyboardist. He stayed with the band on a full-time basis until 1985, when he left to pursue his own musical interests. He also has been known to work with such diverse musicians as Go West, Pet Shop Boys, Cher, Foreigner, Simple Minds, and the Bee Gees.

TONY WADDINGTON (Songwriter and guitar) Tony was originally a member of the Pete Best Three (the original drummer with The Beatles) with his songwriting partner, Wayne Bickerton. They wrote most of the early music for Bilbo Baggins before Brian started writing himself. Their song writing success encouraged Bickerton & Waddington to set up State Records.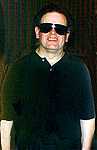 REG WEBB (keyboards) Reg's own web site describes him as the "blind bloke who looked a bit like Jack Nicholson". His album credits include Robin Trower, The Outfield and Nik Kershaw, who Reg was in a band with prior to Kershaw's 1980's success. Played the keyboard parts of the album "Reputation" and on Debbie McKenna's single "One Love".
TAM WHITE (singer, song-writer) Tam is a legend. He is a Scottish blues artist and occasional actor, although this is not why he is a legend. He has a gravelly vocal which commands your immediate attention. He is at home with either a 9-piece big band or a blues trio having started for such acts as BB King, Al Green, Van Morrison, James Taylor, Paul Jones, Charlie Musselwhite and more. His acting appearances include Eastenders and Tutti Fruiti on TV and also Braveheart, with Mel Gibson, on film playing 'Clan Chief MacGregor'.
TOM WIGHT (drums) Tom was a member of Brian's first band, before he left school, called Expo.

DON WILLIAMS (singer) Don is a great American singer, who is also known as the gentle giant; he's 6 foot 1 inch, and performs country music whilst wearing a stetson hat (no, really!). Chisholm and Spence supported him during William's UK tour in 1998.
ALAN WRIGHT
(bass) was in Edinburgh band Threshold (famous for having Les McKeown as a member prior to him joining The Bay City Rollers) and later worked as a session musician working with groups such as M People. According to Alan, he joined Bilbo Baggins (when I find the source of this information again I will place a link here), however, Brian Spence confirmed that Alan was never a member of the band.