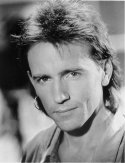 ---
Contact Information
---
Want to contact Brian Spence?
Please do not ask me for Brian's e-mail address, home address or telephone number as I will not give it to you. Brian is a quiet person who, just like you and me, does not want his privacy intruded upon. If you want to send Brian an e-mail send it to me and I will forward it on. If Brian wants to respond to you directly he will do so. However, he didn't with me until I met him some time later.
Want to contact me?
Should you want to ask me a question please feel free to do so. I will do my best to answer it. If I can not I will find someone that can, which may be Brian himself.

This web site undergoes a program of continual improvement and development and will change frequently. So please check back for updates. If you like this site bookmark it and tell others. If you do not like the site, send me an e-mail telling me why and how I can improve it. I do not mind criticism, but remember, please be constructive with it.

Mark Hughes

59 Cranworth Road
Worthing
West Sussex
BN11 2JE
United Kingdom

E-mail address mark@spencemusic.co.uk
Mobile Telephone: 07989 592717
Fax Number 08700 560406

Page Last Updated: 4th March 2010
© Morley Enterprises 2001-2011. This site, SpenceMusic, is a personal site and is not affiliate with Brian Spence, Bilbo, Bilbo Baggins, Cheeky Bufalloes, Chisholm & Spence, The Wish or anyone else for that matter. Any copyright infringement is accidental. The pictures and music on this site are there for information only. They are not there for any commercial purpose. Therefore, if anyone representing the artist(s) or record company(ies) want me to remove these items please mail me and I will remove them immediately! This site, SpenceMusic, and Morley Enterprises are not responsible for the content of any other websites that are linked from here. So there.