---
Brian Spence Links
---
Home > Links
---
Other Sites: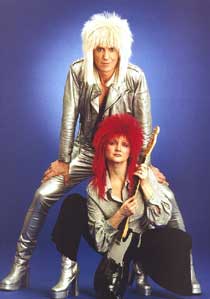 Naoki Sawada's Brian Spence Site - This site is dedicated to Brian and has lots of pictures of covers from his albums and singles. If you can translate this, please let me know (although most of it is fairly obvious).
http://www.interq.or.jp/www1/onj1/br.htm
Kasa Media Brian Spence Site - A German translation of this site by Kay (but done more professionally and with better technical know-how). Well worth a visit.
http://www.brian-spence.de.vu/
Tribute Acts - one of Brian's current projects, supporting tribute bands. The acts include Abba, Alanis, Austin Powers, The Beatles, Blondie, Britney Spears, The Blues Brothers, Cher, Elvis Presley, Freddie Mercury, Madonna, Rod Stewart, Robbie Williams, The Rolling Stones, Shania Twain, Shirley Bassey, Tina Turner, Rocky Horror plus 60's and 70's Tribute bands. The picture to the right is Brian and Debbie posed as The Platforms, a 70's tribute act.
Artist Direct - A massive American website that lists virtually every artist going. It lists all the artists, producers, etc. that have worked with an an artist and who they have worked with. The link is specific to Brian Spence.

http://store.artistdirect.com/store/artist/0,,495962,00.html
If you know more please get in contact.
About Mark Hughes - Yes, this is a link to a page is about me.
Tc Gola & The Goalgetters Tc of Hamburg provided me with a great video file of Brian and other musicians, mainly German and Austrian, performing a benefit song for handicapped children in the 1980's. It's such a great find, in my opinion, that I have provided this link as a thank you to him. Besides, he's a fan of Brian's and a musician himself.
GandhiServe Foundation is a website that helps people to do research on Mohandas Karamchand (or Mahatma) Gandhi. They contacted me a while back to ask if Brian would mind them placing a file of one of his tracks on their web site. Brian was happy to oblige. The track "Ghandi (We Will Write)" can be found on the following link - although they have corrected the spelling.
http://www.gandhiserve.org/
http://streams.gandhiserve.org/music_online.html
Dominic Marshall - The official web site of the director of the successful 1995 Edinburgh Festival Fringe stage version of Brian's musical "MacGregor's Trap".
http://www.dominicmarshall.co.uk/
---