---
Mark Hughes
---
---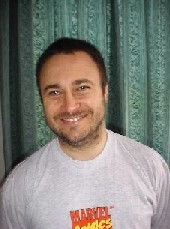 Hi. This is me. Although the picture was taken a few years ago, it still looks like me. My hair is now longer (although only slightly) and greyer. I was born in Redhill, Surrey, UK, in 1961 - so that makes me officially old, (well, middle-aged atleast) and middle-class.
I now live in Worthing, West Sussex, UK - the land of the bathchair and pension book - working as a database specialist and business analyst for the National Health Service in Brighton.
Sue, my partner, and I have been together for over 20 years (that's a long time) and we still love each other.
Music
Apart from Brian Spence I like lots of different types of music, although I rarely get to play the kabuki or Parisian cafe accordion music.
Artists

Web Site Links

Recommended Album(s)

Jackson Browne

Lives in the Balance

Don Henley
Official
Unofficial


All
Little Steven
Authorised



Freedom - No Compromise

John Mellancamp

Dance Naked

Todd Rundgren
Official



No World Order

Southside Johnny
Official


This Time It's For Real
American Comics
I have loved comics since I was (very) young and I still enjoy them. My favorite titles include:

The Elementals (Comico)
Fables (DC / Vertigo)
Boris The Bear (Nicotat)
Jack Staff (Dancing Elephant / Image)
Nightwing (DC)
Pantheon (Lone Star)
Family and Local History
Generally, I am not close to my family but I am interested in the family history and trying to discover skeletons in closets. I also like looking at old historical buildings (although not too keen on castles) and their historical context.
Beer, Pubs and Breweries
I have loads of books on this topic. Sue and I used to wander around pubs in a big way. We once did a day trip to Oxford, which is extremely pictureque city, taking in 11 pubs. When we got back home Sue was asked if we walked along the river. She replied "What river?". Unfortunately, poor health (not alcoholism before you start) has curtailed this activity.