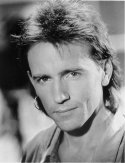 ---
Compilation Appearances
---
Home > On Record - Compilations
---
Listed here are where Brian's tracks have appeared elsewhere, i.e. compilation albums, etc. The appearances are (sort of) listed in alphabetical order. If you know of others why not let me know by emailing me.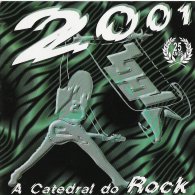 2001 - A Catedral do Rock - This compilation album was release in 2001 to commemorate 25 years of the Portugese rock disco called 2001. Amongst the other acts that appear (Alice Cooper, The Cars, D.A.D., Guns 'n' Roses, Stranglers, Great White, etc.) is the extended version of "Hear It From The Heart" by Brian.
A big thank you goes to djaor, of Portugal, for bring this item to my attention. djaor is linked with Rockzone, why not give them a visit and support their web site?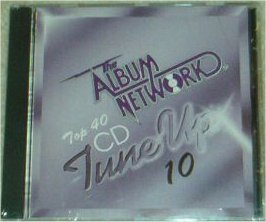 The Album Network Tune Up 10- A great series of promotional tracks from a music magazine for the American music business. Brian's track on this compilation is "Come Back Home" from his first solo album, "Brothers". Other artists appearing on this disc include Guns 'n' Roses, Hothouse Flowers, Love and Money, Rod Stewart, Fleetwood Mac, etc.
Strangely, the same track also appears on issue 24 of the same series.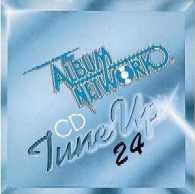 The Album Network Tune Up 24 - (September 19, 1988) A compilation promotional album for American radio stations of 17 various artists, including The Timelords, Jimmy Barnes, The Jack Rubies and Randy Newman. Brian's contribution is "Come Back Home". The sleeve notes say "It's good to see the talented singer/songwriter Brian Spence back with his follow up the debut album "Brothers", which garnered quite a bit of attention a couple of years ago upon it's release. No sophomore jinx here for the artist! "Come Back Home" is a driving and passionate song featuring the impressive vocals of Spence."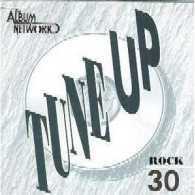 The Album Network Tune Up Rock 30 - (February 20, 1989) Another multi-artist compilation promotional album, from The Album Network, again with 17 different artists, including Gary Moore, Bonnie Raitt, Duran Duran, Extreme and Brian Spence. The contribution here is "Reputation". The sleeve notes say "Come Back Home" from singer/songwriter Brian Spence, was well received last fall when "Reputation" was released, but unfortunately got caught in the mad crunch of holiday releases. Segue to February 1989, and Polydor's Wynn Jackson relates, "We still feel very strongly that Brian Spence is a one-of-a kind songwriter, singer and rocker. "Reputation" should turn some heads when it hits the CD player."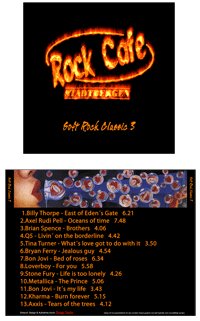 Cafe Rock - Soft Rock Classic 5 - Literally a German cafe bar's compilation CD with artists such as Q5, Tina Turner, Brian Ferry, Bon Jovi, Loverboy and Metallica. Brian's contribution is Brothers.
The Skirt Cafe boasts that you can take away your favourite tracks burned on to a CD in 40 minutes.

CREAM OF POP - SUMMER FESTIVAL - (Polyphon 816934) A series of various artist compilations by Polydor, then Mercury. compilation album from 1988. Brian's contribution here was "Reputation".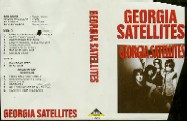 Georgia Satellites - This probably a bootleg tape, where Brian is found on a cassette tape which is predominantly the Georgia Satellites, but has 6 tracks from the "Brothers" album tucked on the end. The tape cover came trimmed with only track listing and a picture of Georgia Satellites.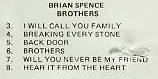 The tape is produced by Team Records (catalogue number T3910) and has zero information about the either artists or the record label. Having searched the Internet for the label has come up with no additional information.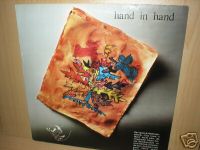 Hand in Hand - This album, which was originally done to raise money for German handicapped children and was supported by a large number of musicians, mainly German and Austrian, singing together the title track "Hand In Hand" under the name of Projekt. Brian Spence was also among the group of singers, who performed the title track on German television, Brian singing his line in English.
The album itself includes the track "Hand in Hand" plus solo tracks by the artists, such as Udo Lindenberg, Opus, STS and Ludwig Hirsch. Brian's contribution is an unusual one, his track being "Get Up, Get Out", which can only be found as the B-side of the "Brothers" 12 inch single and no where else.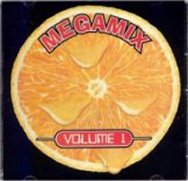 MegaMix

- Released in 1997 this compilation features Brian Spence's "Hear it from the Heart" . Other artists include Phil Collins, U2, The Sweet, Tina Turner, Bronski Beat, Frankie Goes To Hollywood, Survivor, Queen, Russ Ballard and others.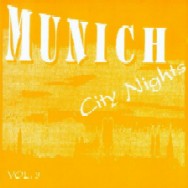 Munich City Nights Volume 3 - A German compilation album series which feature mainly rock artists and tracks. Other artists include John Lawton, Fahrenheit, Alkatraz plus a number of artists I have not heard of before. Brian's contribution here is the extended version of "Hear It From The Heart".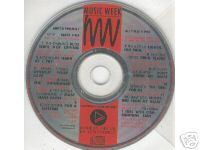 MUSIC WEEK - (Catalogue Number MW PROMO CD1) 1988 - Music Week is the UK equivalent of Billboard Magazine, for the music industry. Amongst the 12 tracks is Brian's "Without Your Love".
Polydor Presents (Polydor Sounds 4) 1986 - This is a four track 7" compilation disc given away this the music newspaper "Sounds". Along with Brian Spence "Back Door" Chris Sutton, Smiley Culture and The Velvet Underground also feature.
The reverse of the single says "Brian Spence is no stranger to Rock 'n' Roll, having played in numerous bands since his schooldays in Edinburgh. Having had some success in his teens with pop band Bilbo Baggins and later with the duo Chisholm and Spence this is his first venture as a solo artist. "Back Door" is a taster from the first Brian Spence album "Brothers".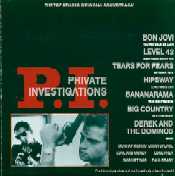 P. I. - Private Investigations- A film soundtrack, from which the track "City of Shadows" originates, which was released as a single. The soundtrack album is shown to the left, with the video cover to the right.
Notes on the soundtrack album are
Scene 92: INT. Jenny's House, Night "...don't be nosey...". The notes go on to say "A great song written especially for the movie by old friends D.W. Charles and Pete Glenister. Pete is a fully qualified doctor but prefers to live as a professional guitar-for-hire for Alison Moyet and others. Brian Spence took time off from touring his own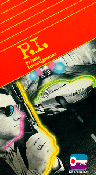 album "Brothers" to record the song, and he made a fantastic job of it."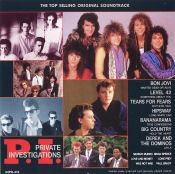 The soundtrack was released in Japan as a compilation only as the movie (and video) was not released there. The Japanese title of this CD is "Top Hits Hot Line".
Thank you to Naoki of the Japanese website for the information and the picture. Here is a link to Nakoi's site. Go to Naoki's Website.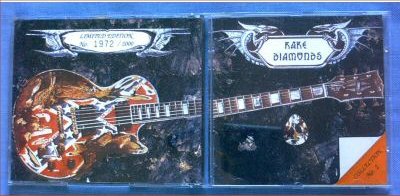 Rare Diamonds No.2 - A rare piece CD, being only 2000 released by Amhurst Records for Rock Record Collectors Club. A compilation of tracks from various artist. Brian's contribution here was "Hear It From The Heart"the extended version.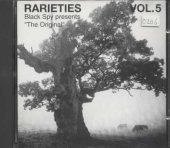 RARIETIES VOLUME 5 - BLACK SPY PRESENTS "THE ORIGINAL" - A German various artist compilation with City Boy, Van Zant and Brian Spence, with "Hear It From The Heart"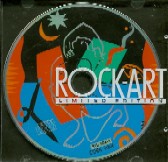 Rock Art - These were a series of 5 CD's of compilations of various artists. All the albums had artwork on the CD itself with a clear front case with "Rock Art" on, showing the CD artwork through. Brian appeared on a number of them, disc 1 ("Hear It From The Heart"), 4 (extended version of "Hear It From The Heart".)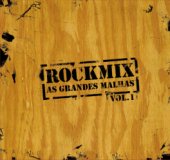 Rockmix as Grandes Malhas Volume 1 - a Portugese compilation album, released in 2003, which has the extended version of "Hear It From The Heart". A big thanks to João Rocha, of Portugal, for bringing this one to my attention.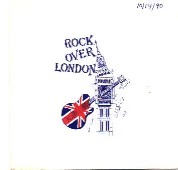 Rock Over London - This is a 1990 US radio show (sent to USA radio stations in the form of a CD, but produced in England), presented Paul Sexton and Sally Stratton (sitting in for regular host Graham Dene).
On the CD show Sally says "You know a should have been's of 1988 was a song called "Reputation" by the Scotsman Brian Spence. Well, it's a case of could still be because he's back with another good record. This is "Travellin' Man"." The back intro by Paul Sexton says "That song "Reputation" that's selling, as mentioned by Sally, has just been covered, by of all people, Dusty Springfield. Don't knock it, I'm sure it pays the rent."
If you are looking for this the isssue number is ROL 90-05.

Rock Power - A music sampler from Germany, which includes the extended version of Hear It From The Heart from Brian, plus 8 other tracks by the likes of Stingray, Willy Deville, etc.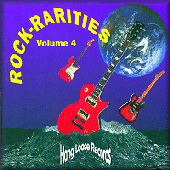 Rock Rarities Volume 4
- A multiple artist album compilation by
Hang Loose Records
. Most of the artists on this record come from the US rock music direction. Brian's contribution here is
Hear It From The Heart (Extended Version)
. Other artists feature include Chris Sutton (again), Rainmakers, Doc Holiday, amongst others.

Page Last Updated: 4th March 2010
© Morley Enterprises 2001-2011. This site, SpenceMusic, is a personal site and is not affiliate with Brian Spence, Bilbo, Bilbo Baggins, Cheeky Bufalloes, Chisholm & Spence, The Wish or anyone else for that matter. Any copyright infringement is accidental. The pictures and music on this site are there for information only. They are not there for any commercial purpose. Therefore, if anyone representing the artist(s) or record company(ies) want me to remove these items please mail me and I will remove them immediately! This site, SpenceMusic, and Morley Enterprises are not responsible for the content of any other websites that are linked from here. So there.