---
Young Norfolk actors back with Hanging Rock musical
---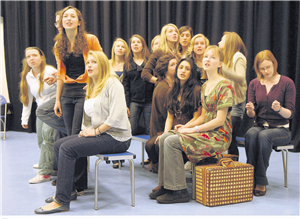 Some members of the Norfolk Youth Music Theatre run through one of the scenes from the musical version of A Picnic at Hanging Rock. Photo: Sonya Duncan.
A group of young actors were given a spot of West End polish at the weekend ahead of their next public performance.
The 49-strong Norfolk Youth Music Theatre, currently rehearsing the East Anglian premiere of musical Picnic at Hanging Rock, were given a master class by the show's creator, Bafta-award winning director Bob Tomson.
Saturday's class also saw composer, lyricist and Edinburgh-based rock musician Brian Spence offer tips to the aspiring performers, less than two weeks before they take to the stage at the Maddermarket Theatre on Wednesday, October 29.
The musical is based on the novel by Joan Lindsay, later turned into a 1970s film directed by Peter Weir, which follows the mystery surrounding a picnic at a beauty spot in Australia on St Valentine's Day in 1900, in which four schoolgirls go missing never to be found.
Mr Tomson, who took a break from directing a drama for BBC Birmingham to lead the cast, praised the acting skills of the youngsters, handpicked from across the county by Norfolk Youth Music Theatre artistic director Adrian Connell.
Mr Tomson said: "It's fantastic. Adrian managed to recruit an extraordinarily talented young group who are very focused, sharp, knowledgeable, feisty and sassy.
"They are hungry to learn and responsive and I am envious. You rarely come across a group who are so focused and committed to the task in hand."
And members of the cast said they had learnt a lot from Mr Tomson, who directed West End hit Blood Brothers among other performances.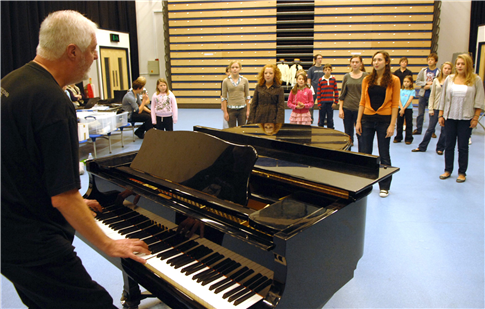 Norfolk Youth Music Theatre members, currently rehearsing the East Anglian premier of musical Picnic at Hanging Rock, were given a masterclass by the show's creator, Bafta-award winning director Bob Tomson. Photo: Sonya Duncan.
Ed Bartram, 13, from Norwich School, who plays Michael, said: "I have learnt a lot about projecting more and being a lot less static on the stage. I've only done a few shows with this company and it's always a really good feeling."
Ritika Gupta, 16, from Thorpe St Andrew, a pupil at Norwich High School for Girls, plays Irma Leopold.
She said: "It has been a lot of fun. I had never heard of the novel before, it's unusual and different and I like all the background music."
Schoolmate Ellie Hitchcock-Wyatt, 11, who plays Sara, added: "Mr Tomson has corrected a lot of thing about our scenes and has changed quite a lot. I'm really looking forward to performing on stage."
The performance will be the group's first since staging a sell-out four-star production of musical Little Shop of Horrors at the Edinburgh Fringe Festival in August, and artistic director Mr Connell said he hoped the next one would also prove popular.
He said: "This is a well-known film and a well-known director and I hope getting Bob on board will help attract a big audience but, as always, it's a gamble.
"You have to believe in it, trust in it and hope the audience come and pay for it.
"It's really nice to have such a willing bunch of kids to work with and it's a pleasure to spend your weekend with."
The premiere of Picnic at Hanging Rock - The Musical will be at the Maddermarket Theatre on Wednesday, October 29, at 7.30pm and runs until Saturday, November 1.
---
Article was found at EDP24 and published on 21 October 2008. The writer is thought to be Sam Williams.