---
Youths take on Picnic play
---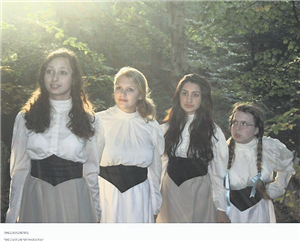 The missing schoolgirls, Miranda, Marion, Irma and Edith.
CONTEMPORARY rock mixes with traditional aboriginal melodies feature as Norfolk's Youth Music Theatre perform the East Anglian premier of the musical Picnic at Hanging Rock this half term.
The production is based on the novel by Joan Lindsay, which was later turned into the famous 1970s Peter Weir film. It concerns the mysterious disappearance of three schoolgirls and a teacher from a local beauty spot in Australia on Valentine's Day 1900.
The musical, suitable for all ages, has a cast drawn from every part of Norfolk, aged from 10 to 19, who have benefited from a special masterclass rehearsal conducted by the creator of the musical, BAFTA and TONY award-winning director Bob Tomlin.
Action centres around a school outing when schoolgirls Miranda, Irma, Marion and their teacher Miss McCraw, go missing from a picnic - and when only one returns with a lost memory, mystery surrounds the fate of the others.
Unpopular Edith and orphan Sara are safe - much to the chagrin of headteacher Miss Appleyard, who bemoans the loss of the more well-connected pupils.
Young aristocrat Michael finds his love for the missing Miranda cannot be quenched by the affections of those who return.
All the while the activities are observed and commented on by the mysterious aboriginal Shaman and the 'watchers'.
Catch Picnic at Hanging Rock at the Maddermarket Theatre from Wednesday to Saturday November 1 at 7.30pm.

---
Article was published at Advertiser24 on 27 October 2008. The author is unknown.