---
Spence Music
A Brian Spence Fan's Web Site
---
Home
---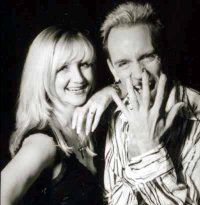 Spence Music is a web site about Brian Spence, the singer, songwriter, producer, multi-instrumental musician and all-round nice-guy who creates and performs fantastic music.
On this site you can find out about Brian's albums "Brothers" and "Reputation" along with "MacGregor's Trap", his marriage to Debbie McKenna, the band The Wish and musical Picnic at Hanging Rock. In addition there is also information on his early career with Bilbo Baggins and Chisholm and Spence.
This web site is 100% unofficial, although Brian has visited the site he has not told me to stop (yet) or to "get a life" (maybe soon). There are a couple of other sites about Brian, one in German and one in Japanese (the very first). Please support these sites too by visiting them. I have provided links to these on the navigation column on the left by using nationality flags.
---
Latest News
25th December 2010
Seasons Greatings: Happy Christmas to you all and we hope you have a Happy new Year.
10th December 2010
Concert Reviews: I have finally created a number of pages linked to the concert at Campo Pequeno. These pages can be accessed either via the "Campo Pequeno" link to the left or here. Go to Campo Pequeno pages.

To be honest, I'm excited about these pages. Not just because the concert was fantastic event to be at (thanks Emanuel of Remember Minds) but also because I have a few guest reviewers writing for Spence Music. Having guest reviewers give a different perspective on the same event and this, in turn, creates depth.

The pages also collect videos of the convert found on YouTube plus information on the publicity campaign.

Facebook Group: I have created a group on Facebook called "Brian Spence Fans". If you want to join (currently it is an open group) please do so. The purpose is to find Brian Spence fans out there to create a community of our own. You can get there either via the link on the left or by clicking on this link. Facebook Group
9th November 2010
Post Concert Blues: I think I'm suffering post concert blues. The concert in Lisbon was fantastic. I mean REALLY fantastic. Don't believe me? Watch one of the videos currently on YouTube.

Concert reviews, etc. will follow soon. I asked a few people to provide reviews. I'm looking forward to reading them.
3rd November 2010
Campo Pequeno: Olá. Bom dia. Brian is already in Lisbon and rehersing with his band for Saturday night's concert in Campo Pequeno, Lisbon, Portugal. I leave for Lisbon tomorrow. If you are also going, try and make as much noise for Brian during his set as you can. I know he will appreciate your support. Adeus for now.

Und W-w-w-wer Küßt Mich: A fan of Brian's music has taken pity on my translation of Und W-w-w-wer Küßt Mich by Wolfgang Petry (which uses the music from She's Gonna Win written by Brian in his Bilbo Baggins days). They wish to remain anonymous and I am happy to oblige. However, that does not mean the information was not gratefully received, which it was. So thank you.
17th Ocober 2010
Lisbon Radio Adverts: Adverts have started to appear for Brian's (and Great White's) concert on M80 Radio based in Portugal. This is was placed on YouTube by DJAOR and Miguel let me know about it. Thanks to both of you.

Mini Convention: I was lucky to meet up with Naoki Sawada, of the Japanese Brian Spence fan website (insert a link), when he was in the UK to see one of his favourite bands, Go West. Whilst in the UK Naoki took the opportunity to journey to London to see Brian perform at the Salmon and Ball, which is right next door to the Bethnal Green tube station.

Brian and Debbie, were very happy to meet him in a venue that people normally just stop in for a drink to meet friends before moving on to some where else. On this occassion, there were a number of drinkers who stopped and listened to the music. Brian and Debbie, who normally play a mixture of cover tracks to their regulars, used the night to practice some of Brian's own music ahead of playing in Lisbon, Portugal. The tracks Brian played this night were Come Back Home, Back Door, Ghandi (We Will Write) plus a couple of others which my failing memory refuses to reveal.

When Brian was not playing Brian and Naoki chatted about work, how Naoki discovered Brian's music, how many fans Brian has in Japan (sadly not many) and Go West.

By the end of the evening Naoki appeared to be a very happy man.
13th October 2010
Campo Pequeno Page: At long last I created a page to celebrate Brian's up-coming appearance at Campo Pequeno. On this page is information about the venue, tickets and the main band Great White. Please click on the link here (Campo Pequeno page link) or look for it in the navigation bar on the left.

What Will Brian Be Playing in Lisbon?: I have been asked about this a few times. At the weekend Brian told me that he will be play a set of approximately 45 minutes consisting of tracks from both Brothers and Reputation plus one cover track. I know that this please many of you who have expressed a preference for this period of Brian's music.

Attending Campo Pequeno?: If you are going to Lisbon to see Brian perform (any why wouldn't you be) why not let me know? I can not promise to meet up, but we have a better chance if I know to look out for you.
4th September 2010
Bilbo Concert on YouTube: Fans of Bilbo should head over to our sister website, BilboMusic.co.uk where a link is available to a 26 minute concert uploaded by STV. This TV concert was first broadcast on Scottish television back in 1978 and features Brian on guitar, along with the rest of the band. Also available via STV channel is a 26 minutes concert of Colin Chisholm from 1981. Both events were recorded for the Scottish TV audiences and will not have been seen outside of Brian's homeland.
8th August 2010
Spence in Concert: This is a rare solo event. A very rare event. Although Brian regularly plays in and around the east end of London with Debbie McKenna, his wife, Brian will be playing a one-off concert at a major arena in November under his own name playing his own material.

The concert will take place at Campo Pequeno in Lisbon, Portugal on 6th November. Campo Pequeno is the bullring in Lisbon, which had a major refit only a couple of years ago turning into a major event location and now holds concerts amongst other things.

This event should not have come as a surprise as I announced this a couple of weeks ago via a message I sent to everyone who was kind enough to leave their email address on the mailing list. If you have not added you email address to the mailing list then shame on you. I don't send out messages very often, in fact I can't remember the last time I did - perhaps it was to do with the Chichester version of Picnic at Hanging Rock? It costs nothing and you could have known about this much earlier. Go on, sign up today.

Anyway, the main headliners will be Great White, an American rock band who have been going since 1978. They had a major hit with "Once Bit, Twice Shy" in 1989, a cover of the Ian (Mott The Hoople) Hunter song and have had other hits through out that time.

Emanuel Gonçalves, of Remembered Minds the concert promoters, has been trying to get Brian to perform in Portugal for a number of years. Finally, Emanuel's patience has paid off as now Brian has agreed to appear. Yes, everything has been confirmed. Brian plans to play music from both Brothers and Reputation.

A Facebook page has been created for the event and can be accessed via the following link. Facebook

In the coming weeks I hope to be creating new pages to support this new event, however, in the mean time, put the event in your diary, buy your tickets, book your flight and hotel and hopefully we will see you there because I plan on not missing this superb event.
23rd June 2010
MacGregor is No More: Tam White, the the voice of MacGregor in Brian's MacGregor's Trap died on Monday 21st June. Tam was a musician of many years, having released around 8 albums since 1970, he was also an actor having had parts in Cutthroat Island, Taggart, Rebus and Eastenders (he married Barry Evans and Janine Butcher).

Brian said about Tam's passing "This is the end of an era as far as I am concerned. [He was] a really important person in my life and totally responsible for my move to London. Tam was a big influence and he was totally passionate about his music.

In addition to his musical talents Tam was not only the voice of MacGregor in Brian's MacGregor's Trap but he also played MacGregor in Mel Gibson's movie Braveheart.

Brian also said of Tam "A big talent but an even bigger character. Edinburgh is a smaller city without him." Tam was 67.

Additional information about this loss can be found at:

Thanks to Gary for letting me know about this tragic loss.
2nd March 2010
So, what happened in 2009?

Discovery of Kenny and The Car Parks, a record by Brian and his brothers Kenny and Stuart from 1980. As I have mentioned before, if you know something not mentioned on the website then I probably don't know anything about it. So please let me know.
A performance of Picnic at Hanging Rock by the Royal Berkshire Academy in July.
Okay, there was probably more than this but I have not had much contact with Brian in 2009 due to personal circumstances.

Live Visit: In late January Sue and I went to see Brain and Debbie perform at the Lord Morpeth in Bow, London. During the evening I took a few pictures, one of which you can see below. Brian is every the showman, but was horrified by the number of chins visible. I sure this is just the light from the camera flash. :-)

YouTube Tribute: Whilst browsing YouTube one day I can across the following video of Doug Armstrong doing a rendition of Brian's "My Arms Are Strong", which appeared on the "Reputation" album. I hope you like it as well.

I asked Doug his permission to include his video on the site, he agreed adding that he had been part of the Chichester cast of Picnic at Hanging Rock, playing Dr McKenzie and was now a fan too.

Want More News