---
Campo Pequeno
---
The Event
It has been many years since Brian has been involved in a concert of this magnitude. Many years. The last one I am aware of was supporting Don Williams (the country singer) in 1998, along with Colin Chisholm, 12 years ago and way before this website was launched.
The concert at Campo Pequeno in Lisbon, Portugal will be in front of a much larger audience than Brian is currently use to (by choice I should add. Brian likes the intimacy of the small venues where he can talk to individuals). This is a rare event. Almost as rare as hen's teeth (and a Brian Spence album).
Brian will be the opening act for Great White, an American rock band, who have had hits with "Once Bitten, Twice Shy" (a cover of the Mott The Hoople song), "House of Broken Love", etc. They have had a few problems of their own over the years. But more on that later.
The concert will take place at Campo Pequeno in Lisbon, Portugal on 6th November 2010 and is a must for all Brian Spence fans. The event is hosted by Remembered Minds
The Venue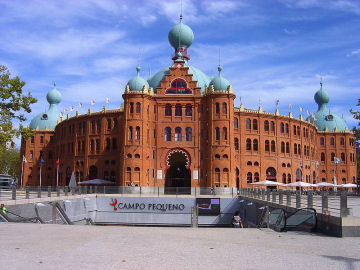 The venue of Campo Pequeno is an architecturally wonderful building. Campo Pequeno is the bull ring of Lisbon and is located in Campo Pequeno Square, close to the Avenida da República. It was originally built in 1892, being inspired by the bullring in Madrid.
In 2006 it went through a major renovation, re-opening as a multi-event venue, and is now used for various events (apart from bull fighting) and includes an underground shopping centre, restaurants and parking. It regularly holds concerts and many famous musical acts have perform there. It will be host to Great White and Brian Spence in November 2010.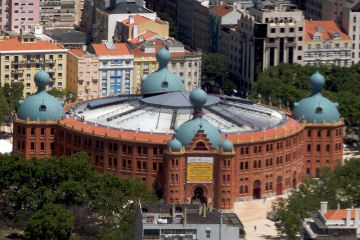 The building itself has a circular layout with four large octagonal towers on each cardinal point each being domed. The Western tower has two turrets and is the main entrance. The many windows of the building have a typical horseshoe shape. The entire surface of the building is covered by bricks of orange colour. The inner arena is 80 metres in diameter and is covered with sand. The seats hold almost 10,000 people, how many seats will be available for this event I have yet to discover.
Tickets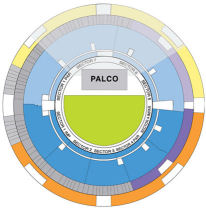 Tickets are available from Ticketline (link) with prices as follows
| | |
| --- | --- |
| Bancada (Standing) | 33.00 € |
| Camarotes (Cabins) | 33.00 € |
| Plateia Em PÉ (Stalls) | 29.00 € |
The concert starts at 8:30pm
The ticket site says of Brian (it also says something about Great White, but this is a Brian website so I'm focussing on him) "Brian Spence is the special guest for this concert. "Hear It From the Heart" and "Will Never Be My Friend" are two of the great classics of the rock singer who left his mark in the 80's. Their album "Brothers" set records in Portugal is considered one of the rarest among collectors.

"At Campo Pequeno, Brian Spence will play themes from the albums "Brothers" and "Reputation" that lured the Portuguese fans. Renowned guitarist, is still required for the best collections of rock. Brian Spence comes first solo Lusitanian present a show for all those who still like Classic Rock!"
The Main Band - Great White
Great White were formed in 1978 and never really broke into being stadium headliners, however, they have been a constant presence on the club scene circuit, having hits with "Once Bitten, Twice Shy" (a cover of the Mott The Hoople song), "House of Broken Love", and "Call It Rock and Roll", all from the height of their popularity during the late 1980s and early 1990s.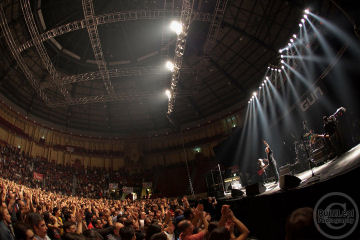 The band have two members who have been in all versions of the band, Mark Kendall on lead guitar and frontman lead vocalist Jack Russell. Great White have released 12 studio albums, 7 live albums plus a string of greatest hits albums. The longest break between studio albums being 8 years, from 1999 to 2007.
In February 2003 Great White made the headlines for all the wrong reasons when some pyrotechnics they were using set fire to the night club venue The Station, in Rhode Island USA, killing 100 people including the band's guitarist, Ty Longley. Since that day the band have been working hard to put that tragedy behind them by playing benefit concerts to raise money for the relatives of the victims.
In 2007 they released their first album of new material since the tragic event (Back to the Rhythm) with a further album released in 2009 (Rising).
It is unclear at present if vocalist Jack Russell will be performing at the Lisbon concert as, according to some sources, he is recovering from an operation to sort out a perforated bowel so another vocalist maybe filling in. This has been reported in various places, however, Great White's official website makes no mention of any operation. So we will have to wait and see....