---
Jeanie Skye
---
Home > On Record - Jeanie Skye
---
Although this page is in the "On Record" section of Spence Music, it is only on record in Brian's collection. This piece of work has yet to be officially released to record (no, I don't have a copy either - although Brian has played it to me once).
Jeanie Skye was born following the success of "MacGregor's Trap" at the Edinburgh Festival in August 1995. Originally Trap was a musical in record form, released in 1991 and was based on Robert Louis Stevenson's "Kidnapped". For more information go to MacGregor's Trap - The Album.
Later "MacGregor's Trap" became a stage production in 1995 being performed in that year's Edinburgh Festival, in August, and featured a number of Brian's friends plus a former pop icon Chesney Hawkes. Hawkes said about about the show "I don't normally like musicals but it was great. It was a rock musical like Tommy and felt like a good fun thing to do." For more information go to MacGregor's Trap - The Stage Show.
The musical was based on and is the tale of a love triangle set in 18th century Edinburgh's Grassmarket area. The three main characters are Jean, Robbie (Jean's true love), and the evil MacGregor, all who battle through two decades of romance, poverty and war.
The cast is shown below.
| | |
| --- | --- |
| Role | Played By |
| David Balfour | Chesney Hawkes |
| Jean (Davie's mother) | Louise Kenny |
| Robbie Balfour (David's father) | Brian Spence |
| MacGregor | Colin Chisholm |
| Mary | Debbie McKenna |
| Catriona | Joanne Ramsay |
The Edinburgh production was directed and choreographed by Dominic Marshall, who trained at Rambert School of Ballet, performing in many lead roles before turning to choreography.
A cassette tape of MacGregor's Trap was issued at the event. However, availability outside of those sold at the show are non-existant. Therefore, if you come across a copy consider it a rare find.
In January 2002 What's On Stage reported that theatre producer Bill Kenwright was behind a new musical called "Jeanie Skye" a big-budget musical similar to Victor Hugo's "Les Miserables". It was actually "MacGregor's Trap" renamed.
Kenwright and the experienced stage director Bob Thomson, whose credits include Willy Russell's "Blood Brothers", both hoped to premiere the show, which features a cast of 15, in Edinburgh during 2002 before moving it to the West End (London).
The image on this page is photograph of Edinburgh's Grassmarket area, which I thought you might be interested in viewing.
The article by the Sunday Herald provides more than the average article and worth a read. Just click on the link. - Article
---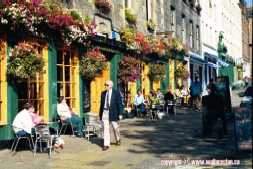 More recently, 16th March 2002, Naoki Sawada let me know that Brian has recently finished working on an acoustic Celtic-rock album version of Jeanie Skye.
Last time I spoke to Brian about Jeanie Skye (mid 2004) he told me that he was planning on doing something with the project again.
In April 2005 a web page was created reviewing the 1995 show. The page on One 4 Review web site, which reviews Edinburgh Fringe shows, has a review and photographs from the production. So, why not visit them by clicking on the following link?
http://www.one4review.com/non_fringe_05/macg_trap_.htm [Page is no longer available so I have removed the link].