---
An Atmosphere To Remember
---
Introduction
It has been a number of years since Sue and I have been outside of the UK and here we were travelling to Portugal to see Brian Spence perform at Campo Pequeno in Lisbon. Brian rarely performs his own material when he plays in and around the east-end of London. Brian and his wife, Debbie, are happy to take requests but this rarely involves his own material even though Brian and Debbie appear to enjoy performing them, the audience appear to enjoy hearing them so they are a winner all round. I guess Brian feels the punters don't want to hear them. I think this is wrong, but I have not been working in the music business for four decades. Yet here we were in Lisbon to see a whole show of Brian's own material.
I have never seen Brian do more than one track at his usual performances in London. I had been lucky enough to see Brian do five of his songs recently (with Naoki from Japan), however, fantastic though that was it was only a warm up to this event.
This concert was the brainchild of Emanuel Gonçalves, a concert promoter for Remember Minds based in Lisbon (and a life-long Brian Spence fan, along with his whole family) who has been trying for seven years to get Brian to come to Lisbon. Brian had been either unable or not willing to make the journey to Portugal. Then something changed and Brian finally said "yes". Without Emanuel's patience and perseverance this event would not have happened. It is totally due to him and he is my hero.
Lisbon Itself
The venue, like Lisbon itself, is old and yet new. Both places have gone through something of a revamp recently. The venue went through a major refit only a few years ago. Lisbon itself has some splendid old buildings which have seen better days, many crumbling into decay without any love and TLC. I also saw many newer buildings, showing a more youthful and vibrant side to Lisbon. Campo Pequeno, the venue, was built over 100 years ago but had been lovingly restored, modernised and brought up to date only a few years ago.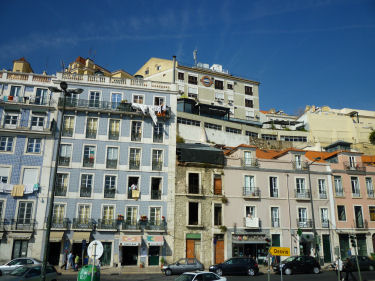 The people of Lisbon were both warm and helpful. I had tried to learn some Portuguese for the trip but I felt like I was used by the people of Lisbon to improve their English. But it was done in a friendly, open way you just don't get in London. It made me feel very welcome and also put me at ease at the same time.
We arrived in the middle of a heatwave. The temperature in Lisbon was 23 Celcius (back hom ein Blighty it was a cool, very cool, 4 Celcius). Bearing in mind this was November, no jackets were required. Suntan lotion was probably more appropriate.
Brian had arrived on the Tuesday before the concert so that he could rehearse with a band made up of local musicians, none of whom Brian had ever met before. I had concerns about this approach but when I spoke to Brian the week before he sounded confident yet aware that should this approach not work out he would have to fall back on performing on his own - without the band. For Brian, this would mean playing acoustically - which happens to be Brian preferred method of performance as he believes it allows him to make a better connection with the audience. Whether the audience would feel the same way is another matter, all they knew of Brian was a couple of long playing records released over 20 year ago. However, when I spoke to Brian the day before the concert, on his way to another rehearsal, he sounded unconcerned.
Apparently the rehearsal room was small and although I was welcome to attend Brian knew that I would be uncomfortable, plus I did not want to get in the way. There can be nothing worse than a well-meaning fan that actually, without intending to, prevents the band honing their performance to the best possible level for everyone's benefit.
The Sound Check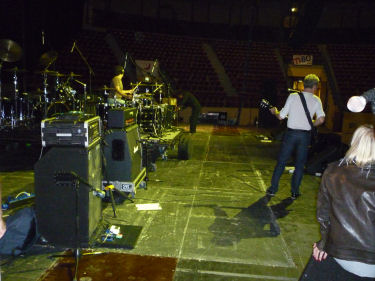 On the day of the concert I got a call from Brian saying that the band was about to do a sound check at Campo Pequeno and we needed to get there quickly if we wanted to be there for it. Sue and I were at the hotel at that time, only a few minutes walk away from Campo Pequeno, so we hurried to the venue.
When I arrived Brian was waiting for us outside of the artist's entrance. Brian said hello and welcomed us in his normal warm manner and then lead us through a warren of stairs and passage ways. At one point we doubled-back on ourselves and Brian had lost the way and we found Great White's changing room instead. Eventually we found his changing room.
Debbie was waiting inside the room. Debbie was also the backing singer, however, Debbie was complaining of stomach pains which she thought was a re-occurring stomach problem. Emanuel had been trying to convince Debbie to go to the hospital, but with no luck. Debbie was hoping to get through the evening on pain killers without the need for a visit to the hospital.
The life style of a musician is often dull, waiting around for things to fall into place or for it to be your turn. Whilst we all waited together for Brian's sound check we chatted. We could hear Great White somewhere in the distance.
At one point Emanuel arrived with his 91 year old grandmother so that she could be introduced to Brian. Everyone agreed that she did not look 91 as her skin was that of a much younger woman. The previous day Brian had been driven out to see Emanuel's father. It was Emanuel's father who shared with his family his love of music and amongst this music was Brian Spence's. Without Emanuel's father, well, let's say this concert might not have been taking place.
It was now time for Brian's sound check. We walked down the same stairs we had gone up earlier but then turned into the auditorium and wow, what a spectacular sight. On the right was the stage, but all around was the circular seating surrounding the floor area. Directly ahead was what can only be described as the royal box. Campo Pequeno was completed in 1892 when Portugal was still a monarchy lead country. That changed in 1910 when Portugal became a republic, but the signs of this period can still be seen and here was one of them.
As a non-musician I had assumed that sound checks were exciting. What I saw and experienced was not exciting. It appeared to be about one person going around each set of instruments, lead and microphones banging them with a drum stick. Occasionally this banging would be amplified, but most of the time it wasn't.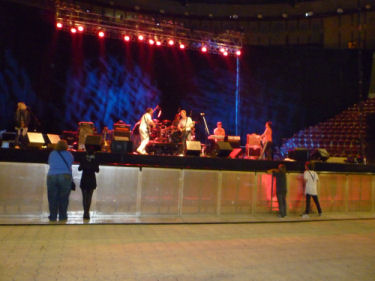 All this time Brian was wandering around with a guitar around his neck, strumming it and playing tunes to himself, chatting to the members of his band. Suddenly everyone was ready and the band started a run through of <insert track>. Once completed questions were asked of everyone there, including Sue and me, asking if the sound levels were right or not. When ever people ask me things like this I tend to think to myself "what answer do they want to hear?". Fortunately Sue isn't like that. Sue will give them the answer they need, in this case reduce the drums and increase the vocals.
The band then started another track, "Hear It From The Heart", and everyone thought that this sounded perfect, including the idiot at the front jumping, cheering and clapping (that would be me). Brian burst out laughing. Everyone's work was now complete and the sound check was now finished.
Brian and Debbie decided to go back to their hotel and collect the clothes they would be wearing tonight. Emanuel had arranged a car for them and Sue and I tagged along, VIP style. Upon arrival at the hotel we went our separate ways with Sue and I returning to our room to shower, prepare for the concert and send texts to my friend Jan, Miguel and Nyto, while Brian and Debbie returned to Campo Pequeno.
Meeting Friends
As soon as Sue and I was ready we left the hotel for the venue, walking to Campo Pequeno, which was beautifully lit and lots of people milling about outside. With the all access passes we had been given earlier at the sound check Sue and I strolled in. We could go literally anywhere within the complex. And I do mean anywhere. We could have wandered onto the stage during the performance, but both chose not to as it would have been very distracting for the band. However, these passes did allow us to wander around totally unhindered.
Once inside we got ourselves a beer (yes, we paid for it) and I started to try and find my friends. First was Jan, from Denmark, who said in his text that he was in the front row in front of Brian's microphone. I wandered into this location and then looked around for someone else looking around. It didn't take long to come across Jan and his friend Torben.
Later, I scanned the crowd for Miguel. I knew he was around as I had received a text to tell me so. I have never met Miguel before, but I knew it was him when I saw his face. He looked just like his Facebook image.
Then I decided to find Nyto. After some initial confusion, on my part, we found each other by sticking our arms up in the arm and then looking for some other idiot doing the same. It didn't take long for us to find each other. Nyto was there with his wife Milaida.
The Concert
It was nearing the beginning of the concert, so I found Sue again and we made our way to the front. Unlike British venues everyone was spread out evenly. There was no pushing or shoving, all very civilised. I like Lisbon.
The lights dimmed, the crowd roared and the band made its way onto the stage, taking up their positions. Then, what felt like an age, Brian appeared and stood in front of the microphone, said "enter words" (plus translation) and the band started to play "Reputation" and the fun began.
Sue and I were joined by Sonia, Emanuel's cousin, in front of Paulo the guitarist. Sue and I had agreed earlier that I should wander off if I wanted to (I get restless and often feel the need to go for walks) and I knowing that Sue would be safe with Sonia I started to visit various areas of the venue to soak up the atmosphere.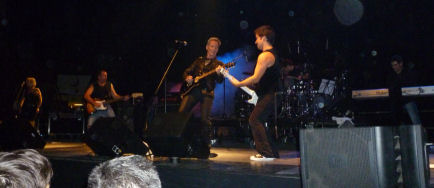 As I passed along the front row I became aware that some people were singing along to the music. I thought, this is great and I'm loving this.
As I passed along the front I saw Jan and Torben. I wave and they waved and smiled back. They looked like they were enjoying it.
Reputation
Come Back Home
Brothers
I Will Call You Family
Love Is The Glory
Back Door
Ghandi (We Will Write)
When It Hurts/My Sharona
I came to rest with Debbie (Brian's wife and backing vocals) in front of me. She looked better than she did earlier and appeared to be doing well. I was hoping that the problems Debbie was experiencing earlier would not return as I knew it would disappoint and upset her.
After a while Debbie spotted me in the audience and we had a quick conversation (the sort of conversation that two people have over a distance, at a concert, who can't hear each other). Debbie pointed out that I was here and Sue was over there. I smiled back and laughed. More of the audience were singing along now.
Brian spoke to the audience. "This one has been requested by Antonio". A big cheer went up, Brian then realised that there was a large number of Antonios in the arena. "Manuel?" said Brian, which got another cheer. "What about Pedro?" Another cheer went up. "How about Brian?" There was silence. "Just me then" Brian said.
At this point, Brian started singing "Will You Never Be My Friend" and the volume of the audience became loud. So loud that Brian stopped singing and allowed the audience to take over. The look of . joy on Brian's face was something that I will never forget, and I suspect neither will Brian.
Will You Never Be My Friend
Get Your Rocks Off
I circled around towards the rear of the floor area and the start of the seating. Even these people here were engaged and joining in the singing. I continued around and returned back to Sue and Sonia.
Sue was talking to another person in the crowd. They had spotted Sue's pass and was asking if Sue knew Brian. Upon saying yes, they asked if Sue could get Brian's autograph for him. Sue said that she would try and asked them to provide a name and address for forwarding on. The person, Tiago from Ceena, did so and we enjoyed the rest of the concert together.
Then suddenly, the band left the stage. I was stunned. How could a concert go so quickly? Campo Pequeno started cheering and shouting for more, which felt like another lifetime, until the band returned to the stage to perform Rebel Yell, a cover of the Billy Idol track which is a regular track in Brian and Debbie's set list back home in London. The audience loved this too and sung along wanting "More! More! More!" Then Brian and the band left the stage again.
Rebel Yell (first encore)
Hear It From The Heart (second encore)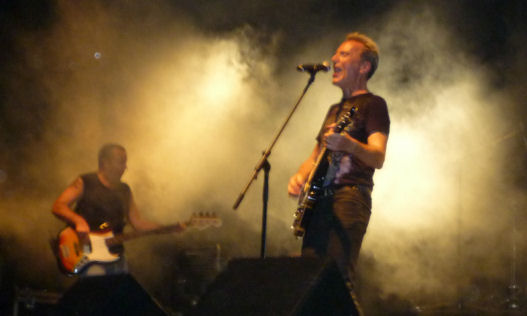 After another pause, the band returned to the stage and Brian said "We forgot to do this one" and the band launched into "Hear It From The Heart". Again, the whole of the venue sang along. Then it was over, the band was leaving the stage for the final time. The sheer joy of this moment was clear, Brian has had the time of his life. As Brian started to walk off he momentarily returned to the microphone to say "I love you" and he meant it. Then he and the band was gone.
Post-Concert Meet and Greet
Sue and I returned to the dressing area we had been to earlier in the day during the sound check. We met up with Brian who was his usual laid back self, but there was euphoria mixed in there too. I mentioned to him that we knew a few people who wanted to meet him and thank him (I was thinking of Jan, Miguel and Nyto) for the music and was he interested. Brian said he would meet them and I wander off to find my friends.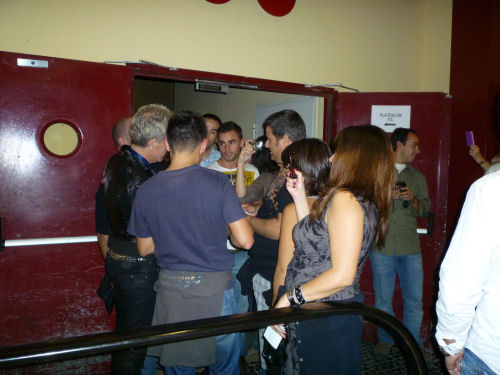 I soon as I entered the public area I met up with Jan and Torben. I told them to hang around, Brian would be out soon. I continued my search of the venue. Which I totally failed to do. I returned to the area where I had left Jan and Torben. There was Nyto (and his wife Milaida) and Miguel. And Brian. And lots of other people. Brian was completely surrounded by fans, all wanting a picture with him and autographs. Brian was having the time of his life.
I too got some pictures, of my friends, and went to see Great White for a time. When I returned some time later everyone was gone and then I spotted Sue's face from around the sheet which separated the public area from the backstage area. I joined her and there was Brian doing an interview for television, I think it was for M80 Radio. She had told me that if Brian hadn't moved backstage he was likely to be there all night. I don't think he would have minded.
After the interview, Brian started signing records that another Spence Music visitor, Luis, had brought along. I think Luis had brought his entire Spence record collection and wanted the sleeve and the disc itself signed. I guess events like these are so rare you just have to take your opportunity when they arise. Brian was happy to oblige.
Whilst Brian was signing Luis' records Debbie had been talking with Nyto and Milaida (who was still there). Eventually, all signatures were done and Brian joined them. Then it was time to return to the dressing area and we all said good night.
Mark Hughes, Spence Music