---
Polydor Biography - September 1986
---
Home > Brothers > Brothers Bio

---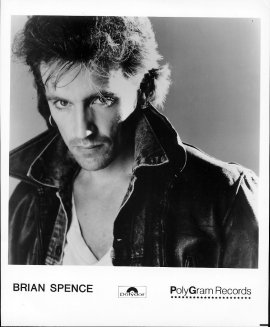 The following biography was issued to DJ's by Polygram Records USA with promotional copies of the American release of the "Brothers" album.
Singer/Songwriter/rock 'n' roller Brian Spence makes a welcome solo debut with Brothers, on Polydor/PolyGram. The album is virtually a one-man show, featuring ten stunning originals and Spence playing guitar, bass and keyboards, with Geoff Dugmore on drums. Brian also co-produced the album with Ed Stasium, whose notable successes include Talking Heads, Peter Wolf, and the Ramones.
Brian has been playing since his school days in Edinburgh, where he furiously strummed an acoustic guitar in numerous local bands. At the age of 17 (by now electrified), he joined the pop band Bilbo Baggins, which enjoyed moderate success in the U.K. The group disbanded, although Brian continued to work with their lead vocalist, Colin Chisholm, eventually signing to CBS in America as Chisholm and Spence.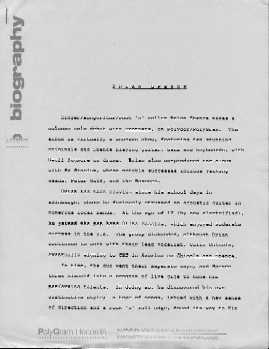 In time, the duo went their separate ways, and Spence threw himself into a program of live gigs to hone his performing talents. In doing so, he discovered his own distinctive style; a tape of songs, imbued with a new sense of direction and a rock 'n' roll edge, found its way to Kip Krones, an American manager living in London, who by then was also managing British band The Outfield.
Polydor Records took notice as well, and Brian was soon signed by Nick Garvey (ex-Motors). Subsequently, Spence and Stasium recorded Brothers in London, with Ed also handling the mix. Brian then began rehearsing his band (which includes, appropriately enough, his brother Stuart on bass) for a forthcoming UK/American tour.
Highlights from the album include the first single, "Hear It From The Heart;" the title song; the romantic "Making Up For Lost Time;" and the rocking "I Will Call You Family." Says Spence, "Brothers is the kind of album I'd been wanting to make all along. It is what I wanted to say, and how I wanted to say it."