---
Spence Music and Beyond
---
In an article on how Spence Music came into existence Mark Hughes (that's me) tells us about a quest for knowledge, Spence Reunited and the future of Spence Music.
---
How It Started
During 2001 I started to wonder what I could do with the web space that my Internet Service Provider had given me. I toyed with my interests (music, family history, American Comics, Douglas Adams, etc.) but nothing inspired, nothing original. That was until Sue, my long-suffering partner, asked me a question about Brian Spence whilst we were listening to "Brothers" in the car. "Is he Scottish?" she asked. I did not know the answer and yet I knew why she had asked the question. There were elements within the music that echoed of "Over The Sea" by Jesse Rae and Big Country, who we knew to be Scottish.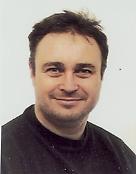 Motivated by Sue's question I tried to find out the answer to her question. I found absolutely nothing. Bugger all! This was now changing from answering a simple question into a quest for knowledge. I decided to group together the sum of my knowledge about Brian, which was very little at the time. Using his two solo albums as a starting point, within a few weeks the basis of a web site was born (although I still could not answer Sue's original question).
With this new web site (which did not have a name at this point) I started a determined search of the Internet for more information. I found the Sounds EP for sale, which I bought straight away. When it arrived I read the information on the sleeve and immediately I could answer Sue's question. "You're right, he does come from Scotland. Edinburgh to be exact.". I now had another piece of information to add to the web site.
Knowing where Brian was born allowed another leap. On his albums all tracks are published by Clermiston Music. I asked myself what is a Clermiston? Again, I searched the Internet and found that Clermiston was an area of Edinburgh. I suspected that this was where he lived (which he later confirmed) and so another piece of the puzzle was completed.
First Meeting
In December of 2001, within a few weeks of starting the webs ite, my research found someone called "Brian Spence" that was playing at The Old Blue Last, in Shoreditch London, with Debbie McKenna, that weekend. I was unsure that it was same person but I just had to go. Fortunately it was THE Brian Spence and Sue and I were treated to a night of well performed covers with Brian, Debbie and Tammy (Debbie's sister) each taking turns to sing. Later, when I spoke to him, I found a very open and friendly person who was interested in me and what I was doing (rather than someone telling me all about themselves - which is all to often the case). He was interested in the web site and after viewing it he invited me to his studio a few weeks later.
Wow, that day in Brian's studio was fantastic. It is still up there amongst the best days of my life (but below the day of meeting Sue, of course). We talked about web site design, music (playing some of Brian's new music) and Bilbo Baggins before meeting two of his brothers (Stuart and Douglas). The day finished with me taking Brian and his brothers, in my car, to the pub. I was as nervous as hell. What if I had an accident and injured them all? His fans would hate me, Brian would hate me and I would also hate myself. Luckily the trip passed without incident, however, I was unable to join them as a had a long journey home ahead of me.
The Wish
Brian and I stayed in touch and in July 2002 he told me of a showcase event in London for a new group he had formed with Debbie and Stewart Irving, called The Wish, and would I like to come? Would I? Of course I would! Sue and I enjoyed another superb night of new music. Every track sounded great although some were more immediately accessible than others, whilst others grew with time - so no change there. Their album, Postcards, was eventually released in June 2003, nearly a year later.
During the year between the showcase and the album release I was asked to help with the design of The Wish's web site, which I was very pleased to do. Having said "helped design" it was actually Virginia, the band's manager, who had a very clear vision of what she wanted, I just helped to make that vision a reality.
Spence Music
Strangely enough June 2003, the month of the release of "Postcards", was also the month that I started using the name Spence Music which also introduced the current web address, around 18 months after it's start up. Since then I feel the web site has been getting stronger and better but there is still plenty of room for improvement. No room to rest on my laurels.
Along the way I have found that there was already a web site dedicated to Brian Spence. There was someone who was there first, who had the foresight before me. Take a bow Naoki Sawada of Japan. [To view his site click on the Japanese flag on the navigation bar or this link Naoki Sawada's Web site]
So, what do I have planned for the future? I would like to have more articles, either from magazines archives or from friends of Brian and Debbie's. Perhaps more (new) music, along with an interview or two with Brian, when I can get him to slow down enough. I would also like to improve the web site's navigation without compromising the speed of display and finally I would like to get more fans involved, the main problem is how.
One of the interesting side-effects of running the Spence Music site is, what I call, Spence Reunited. This is similar to Friends Reunited but for old mates of Brian's who have lost contact and use Spence Music as their way to re-establish that contact, which I am happy to help with.
However, one of the best things that has happened is where other Brian Spence fans have written to me to tell me that they like the site. Presumably I must doing something right and that gives me a real buzz.