---
Ocean Deep
---
When Steve Khan emailed me to try and get in contact with Brian Spence I was happy to help. Steve was involved with the "I Who Have Nothing" single, released as "Fax-U featuring Debbie McKenna". After doing so I asked him if he would be kind enough to write about his connection with Brian and Debbie. Being the great guy that he is Steve obliged and wrote the following for Spence Music. Thanks Steve.
---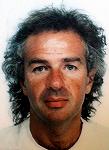 It all really came about [working with Brian] from me taking Ray Caruana to Brian's studio. Brian agreed a price for doing the recording of Ocean Deep. Tommy, the landlord from The Old Blue Last, also came with me and Ray to see Brian. Tommy, because of Ray being one of the featured singers in his pub agreed with me to go 50/50 on the project and we formed a company together called Krystle Klear Records.
Brian said that he had known Ray for some time and as a result he would do us a special rate to try and help Ray, provided we agreed to fit in with his other recording commitments. I was happy with this but put in a condition that I would have a say in the sound/feel of the recording. I think the track took about three/four weeks to put together with me visiting the studio on several occasions to consult with Brian as the recording came together. We decided to use a live sax and got in touch with a guy called Snake Davis who evidently had done some stuff for George Michael.
Over this period Brian and I shared several coffee breaks and of course got to know each other. In all that time, I only can remember Brian ever eating toasted cheese sandwiches, he must have a cholesterol count as high as the moon.
When the track was completed all concerned were really pleased with it. It was then that Brian asked a very logical question, having now got the track what were we going to do with it? Logical as he's question may have been, none of us had ever thought ahead that far.
I gave the matter some thought and decided that it may be a bit on the ambitious side to think that I could just stroll into a London based recording company and expect them to listen to our little effort. I made the decision to try a less competitive league as it were, and picked a European country where I knew English was readily spoken, Holland.
My brother, John, and I jumped on a plane and landed in Amsterdam. I think Brian was a little amused by this, but trying to be positive, gave us some of the stuff he had written just in case fortune favoured the brave.
Having arrived in Amsterdam and taking a room each my brother and I got two copies of their equivalent of The Yellow Pages and rung up all the record companies. Amazingly we got two invites – one from Warner and one from, I think, EMI.
After seeing both of them, Warner said that they really liked the quality of Ocean Deep but thought that it would be very hard to break into the ballads market with a relatively unknown singer, but then said it was well made and did I have anything a bit more commercial and perhaps original (Ocean Deep being a cover [originally a hit for Cliff Richard] ). I pulled Brian's stuff out of my case and played it to them. They then said that if they could have an option on the original stuff they would see what that could do with Ocean Deep.
When I phoned Brian and explained what had happened, I don't think he believed me.
When I returned to England Brian said that if I was interested he would form a company with me (K2 Records) with the idea of doing covers of songs, but done in a way to appeal to the club/dance scene of that time. I was introduced to Debbie and we took her to a photographer and got some promo shots done. Brian did several versions of the track ["I Who Have Nothing" originally performed by Shirley Bassey] and we got it put on plastic and distributed around the dance clubs of Europe.
It made in into the dance charts, it's highest point being, I think, 24. The distribution company's weekly report said that it was particularly liked in the Gay clubs, most probably because there was a cheering live audience effect on one of the versions. Not sure how it happened but it was heard at some music exhibition and from that we were approached by a record company from Australasia who the put the three different versions, on three different compilation albums, which went out in that part of the world.
I think Brian and I both felt that the project had had some success, but Brian was really more into his own creative original writing and his musical. I had enjoyed the project but felt that maybe it was time to concentrate more on my world, which is casinos. However, I so much enjoyed the experience that I am still linked to the music thing with my association with Jack Harris [Alan Parsons Project] and Abri Van Stratton [a white South African singer / song writer / guitarist].