---
The Making of MacGregor's Trap
---
Dominic Marshall was the director for "MacGregor's Trap" at the Edinburgh Fringe Festival in 1995. The show received rave reviews and eventually evolved into "Jeanie Skye". Here, Dominic writes of how he got involved with Brian Spence and "MacGregor's Trap" in an exclusive to Spence Music.
I would like to thank Dom for his time in writing this article and for finding the pictures (taken by Stuart Spence, Brian's brother) on this page and sending to me.
---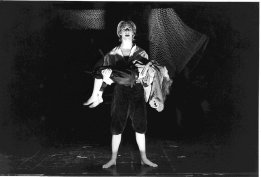 I got involved in "The Trap" in a roundabout way as you do in these things. I was on the end of a chain of people who were asked to help out. If my memory serves me well Brian had been persuaded (in a pub!?!) that it would be a good idea to produce the show himself, as it had been languishing in producer limbo for about a year.
So he booked the slot at the festival and got his singers together and they decided to direct themselves (...6 characters in search of an author...). Realising there was no way that was going to work I think the first person they turned to was an actress friend of Louise's [Louise Kenny - Editor] who then put them in touch with the director Peter Durkin, who passed it on to my friend Ian MacKenzie Stewart, who thought it might be my kind of gig. He got me to go and check them out while they were rehearsing at The Old Blue Last.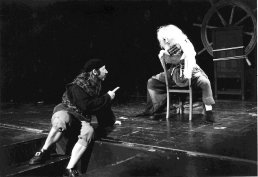 I liked what I heard and agreed to take the recording away and listen to the whole thing over the weekend and talk to Brian if I thought I could help them out. I virtually saw the whole show on the first listen through so decided I couldn't pass this up.
I said to Brian that I could probably put together a show that showed the potential of the work, the main stumbling block, I think the others came across, is that at the time it was written very much in album form rather than traditional musical form and there wasn't any time for any major rewrites. As my background was in Choreography, I approached it in the same way I would a Ballet and filled in information with visuals and movement. The only rewriting that was done was adding the jig between David and Catriona's two duets and adding a punch line from MacGregor at the end. The rest is history, we achieved what we set out to do and rekindled interest in the show.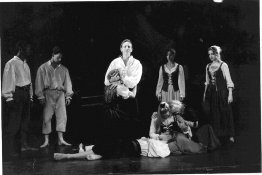 Brian then started writing more songs for the show and we booked a bigger venue at the festival for the following year. In fact we had been asked to transfer to one of the other festival venues at the end of the run but everyone had other commitments. Then Bob Thompson came on board and the show started to go off in other directions so Brian thought it would not be a good idea to stage one version while it was evolving into something else so we canceled our return trip.
The Trap is back in producer limbo land. None of the big names has the imagination or the nerve to put on a large scale work that is not a remake of a famous movie, a biog of a dead famous person or a collection of hits strung together with a dodgy plot written by an overrated comedian... rant... rave... rant... rave.....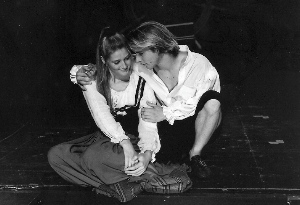 Sorry about that, but I've had the privilege to hear all the different versions of the musical as it has developed and it pisses on anything else that is out there. MacGregor's Trap remains one of the things, if not THE thing, I am most proud of being involved with and I have remained close friends with Brian and Debbie these last 10 years (is it really that long ago?).