---
Kerrang! Review of Reputation
---
The following review of Brian's album Reputation was found in Kerrang! Issue 194 - July 2nd 1988. Kerrang! is a British weekly music magazine that specializes in the rock end of the musical spectrum. The magazine is famous for it deliberate misspelling of words, using a "K" where normally a "C" would be used. The best example of this can be seen at the bottom of the page, where, instead of star-ratings they give K-ratings, the ratings are explained.
---

BRIAN SPENCE
'Reputation'
(Polydor POLD 5225)
KKK
A SLIGHT move sideways from fully-fledged Bryan Adams styled hard rock towards a softer and ever so snappy form of protoAmerican pop rock. Safe, highly polished and atmospheric melodies wrap around strong original tunes, but on too few occasions does the pace allow for the muscle men at Kerrang!to really offer a golden handshake.
Brian Spence released his debut albumin 1986 and created a welcome buzz. His music was warm and full of dangerous guitar, he sang with passion and pride but somehow, through no fault of his own, he took a dive. Nobody, apart from a select few, gave him the praise he deserved. Many dismissed him out of hand. The trouble for Brian Spence centred around the unenviable task of proving that he does, indeed, have something substantial and unique to offer.
With 'Reputation' he has achieved a couple of essential tasks. His songs are certainly much better, more catchy and entirely individual, and his voice, gravelly and melodic, has matured beyond reasonable expectation. Brian Spence, thank God, now sounds like Brian Spence. . . not Glen Burtnick or Bryan Adams.
The title track is an entirely brilliant example of just how wonderfully fresh and appealing he can be; stripped bare of loud uncouth noises the song scuttles long at a fair rate of knots powered by atmospheric piano and a conceivably perfect drum pattern. When the hookline crashes around the ears it is possible to feel both feet lift from the ground and your jaw touch the floor. This song won't change the face of rock, but the melody will turn out to be as memorable as Waite's 'Missing You'.
The major problem with this album is a severe lack of hard guitar. The songs are superb (all self-penned) yet far too gentle and muted, geared for radio play and not the beer sodden atmosphere of a live show. Only one track on the LP captures his alter ego and it's called 'Will She Be Home Again', great AOR with huge guitar strokes and an expert sax solo.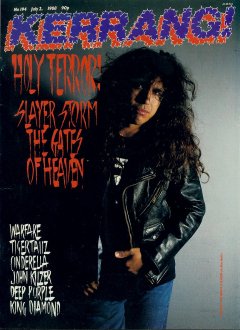 More please.
DEREK OLIVER

| | |
| --- | --- |
| Scores | Description |
| K | Kompost! |
| KK | Klueless! |
| KKK | Kompetent! |
| KKKK | Korrosive! |
| KKKKK | Kolossal! |