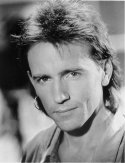 ---
Kerrang! Live Review
---
The following review of Brian's album Reputation was found in Kerrang! Issue 188 - May 21st 1988. Kerrang! is a British weekly music magazine that specializes in the rock end of the musical spectrum.
---
BRIAN SPENCE
Marquee, London

THE ULTIMATE problem with being a singer/songwriter is that there's just so much competition around. No matter where you tread, you always seem to be waist deep in a million Bryan Adams imposters. There they are, hundred of 'em peering at you from the racks of every record shop in the country - all squeaky clean, teeth shining, Telecaster pumping over twiddly riffs and nice harmonies.
Brian Spence, it has to be said, is not that much different. His songs are critical American radio fodder, dirtier than Bryan Adams, not as hip as John Cougar Mellencamp but certainly ballsier than Richard Marx. Whether he'll cut through in the UK in a big way is debatable, his songs are far too memorable and the melodic guitar riffs would easily relegate him to the ranks of the doomed specialists. In essence then, Brian Spence is not for the mixed up British music scene. He's too good pal.
In America he will go down a storm. I can envisage Top Ten positions for both the album and the single, mass hysteria in shopping malls and kids selling their own shoes for concert tickets. Mind you, he's going to have to change the way he looks. Two years ago on the cover of his debut album, 'Brothers', he resembled an unshaven version of Rick Springfield. Y'know, good looking but er. . . a bit rough. On stage at the Marquee he completely understated his presence, making little effort to maximise that all important visual clout. A tacky biker's jacket, string vest and jeans won't sell many records I can tell you. Not only that, but he wouldn't have looked half as grotty if his band hadn't completely upstaged him in the good looks department.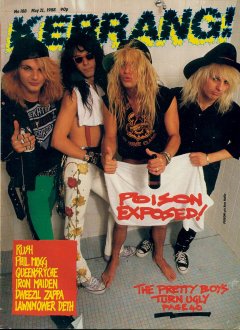 With Lawrence Archer hammering out the licks and bassist Gary Liedeman laying down an enormous rumble, Spence's tuneful songs took on an unbelievable edge. Heavier and far harder than the last time I saw him in concert, there can be no question that musically they now have the potential to crush arena audiences to pulp. His songs are magnificent slices of melodic rock, hard but not heavy, loud but not lifeless.
Check out his latest single 'Reputation' or the whimsical shuffle of 'I Still Don't Know' for absolute proof of his tremendous appeal. Somehow me thinks that this time around, Brian Spence will make it. Big time that is.
DEREK OLIVER


Page Last Updated: 4th March 2010
© Morley Enterprises 2001-2011. This site, SpenceMusic, is a personal site and is not affiliate with Brian Spence, Bilbo, Bilbo Baggins, Cheeky Bufalloes, Chisholm & Spence, The Wish or anyone else for that matter. Any copyright infringement is accidental. The pictures and music on this site are there for information only. They are not there for any commercial purpose. Therefore, if anyone representing the artist(s) or record company(ies) want me to remove these items please mail me and I will remove them immediately! This site, SpenceMusic, and Morley Enterprises are not responsible for the content of any other websites that are linked from here. So there.