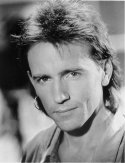 ---
Kerrang! Review of Reputation
---
The following review of Brian's album Brothers was found in Kerrang! Issue 132 - October 30th 1986. Kerrang! is a British weekly music magazine that specializes in the rock end of the musical spectrum. The magazine is famous for it deliberate misspelling of words, using a "K" where normally a "C" would be used. The best example of this can be seen at the bottom of the page, where, instead of star-ratings they give K-ratings, the ratings are explained.
---
BRIAN SPENCE
'Brothers'
(Polydor POLD 5195)
KK3/4

WHO IS Brian Spence? Is he Bryan Adams? Is he Rick Springfield? Nope, although judging by his debut album he obviously thinks he could be, strumming his way harmlessly through a field of flimsy fodder like 'Wondering How To Cry' and 'I Will Call You Family' (naff titles or what?), trying to convince himself of the fact.
The trouble is, Brian Spence isn't a patch on either of the aforementioned AORsters. His voice isn't as strong or as striking, his material is nowhere near as infectious or memorable and he just doesn't have that special something to provide a spark of excitement and make you want to give the album more time to work on you. As it is - like 'Doom' commented while the thing spun peacefully away in the office - you tend to forget it's playing after a while; certain songs (like opener 'Hear It From The Heart', for example) grab your attention with the first few bars, then let it slip casually away. Where's the passion and the raunch of Adams? Or the melody and emotion of Springfield? It's not on 'Brothers', that's for sure!
Despite the clean production and the general kompetence of Spence's performance (incidentally, he handles all guitars, bass and keyboards as well as vocals) and that of his backing musicians, everything comes across as tame, insipid and very ordinary. Ten minutes after playing the album you find it real hard to remember any of the songs.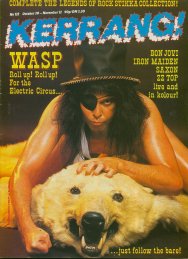 MARK PUTTERFORD

| | |
| --- | --- |
| Scores | Description |
| K | Kompost! |
| KK | Klueless! |
| KKK | Kompetent! |
| KKKK | Korrosive! |
| KKKKK | Kolossal! |

Page Last Updated: 4th March 2010
© Morley Enterprises 2001-2011. This site, SpenceMusic, is a personal site and is not affiliate with Brian Spence, Bilbo, Bilbo Baggins, Cheeky Bufalloes, Chisholm & Spence, The Wish or anyone else for that matter. Any copyright infringement is accidental. The pictures and music on this site are there for information only. They are not there for any commercial purpose. Therefore, if anyone representing the artist(s) or record company(ies) want me to remove these items please mail me and I will remove them immediately! This site, SpenceMusic, and Morley Enterprises are not responsible for the content of any other websites that are linked from here. So there.