SpenceMusic Guestbook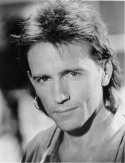 All messages regarding Brian Spence, Bilbo Baggins or this website are welcome. However, a common misunderstanding is that Spence Music is Brian's official website instead of a fan's tribute to him. Any messages for Brian will be forwarded to him, but please do not expect a reply and he is still busy and no response can be disappointing.

Add a message : SpenceMusic Home Page : Search
There are now 68 messages in the guestbook.
<<< 1 2 3 4 5 6 7 8 9 10 11 12 13 14 >>>
Viewing messages 26 to 30.

Joanne Martin |

Hello Brian, saw you and Danny on Boland Show, coming across really well, hope something good comes out of it for you both!

Hope to work with you and Debbie soon, really enjoyed the last couple of gigs, lots of love Joanne x

14 November 2006 - east london
---
Chloe Chisholm (Colin's daughter ) |


Here's a bit of useful info for u;The "unknown boy" in the Macgregor's Trap picture is in fact ME!!;A girl!haha;though, i woz infact playing a boy!So there u have it, it all runs in the family!Great site, well done Mark!

Chloe x



7 October 2006 - London, originally edinburgh!
---
djaor |

hello to all ,First of all i would like to pay attencion about the Mark Hughes work , the web page are superb without his time we never has know about brian spence works , i would like to made all big thanks for the support he made to brian spence fans , and of course thanks for the rockzone support , i dont need to say again you have a friend in Portugal which you can count and finally the big thanks goes to The rock Master Mr Brian Spence for the music you made for this kind of rock Fans around the world , and for all who likes brian spence music lets support him and get the Wish CD i think its the minimum we can do to him !!!!!!!
all the best
Djaor
( portuguese friend )

10 October 2006 - Portugal
---
Jackers |

hi, great thanx for "it's a shame";i was 11 years old at this time;fantastic song ! good job !

27 September 2006 - France/Poland
---
Paulo Ferrão |

I know that you are aware of this following that you Brian have in Portugal; To be precise Cascais wich is a villa nearby the beach, sunny place by the sea where 15 years ago thounsands of young people went to a club in the middle of nowhere just to listen to songs like ear it from the heart and brother; If you ever come to Portugal be free to call me I would be really glad to meet;

Thanks for making my youth better;

Paulo Ferrão

9 August 2006 - Portugal
---
Webmaster comments Hopefully Brian's music has not just made your youth better, but the whole of your life - like mine.
---
<<< 1 2 3 4 5 6 7 8 9 10 11 12 13 14 >>>