SpenceMusic Guestbook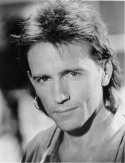 All messages regarding Brian Spence, Bilbo Baggins or this website are welcome. However, a common misunderstanding is that Spence Music is Brian's official website instead of a fan's tribute to him. Any messages for Brian will be forwarded to him, but please do not expect a reply and he is still busy and no response can be disappointing.

Add a message : SpenceMusic Home Page : Search
There are now 68 messages in the guestbook.
<<< 1 2 3 4 5 6 7 8 9 10 11 12 13 14 >>>
Viewing messages 16 to 20.

Mark Adams |

hi there
just wanted to say that i have both album's on LP
and now cause of the downloads can put them both on to CD
giving me even more time to listen to what i think are 2 of the most underated albums of the 80's
watched the clip from panic at hanging rock; didnt even know brian was heading in that direction;wow; as an actor myself, well you never know whats round the corner now; could be brian directing his first feature film;
anyway
just wanted to say thanks for the great music and really really hope to hear some new stuff soon; mark;x

11 August 2008 - Manchester UK
---
jason |

there was a video of brians filmed in the east end of london with some skinheads in there ;does any 1 know what it was called

11 April 2008
---
Webmaster comments Hi Jason
I think the video you are referring to is "Brothers", which was filmed in the East End of London (not Brian's native Edinburgh). There are most, if not all, of Brian's video on YouTube and I will be creating links to them soon in SpenceMusic. Go to http://www.youtube.com/watch?v=raTW3_ZfR8k&fmt=18 to check if this the the one.
---
lennie spence |

hello brian hi debbie its been 22 years since i have sung ziggy stardust and billy joels my life at our then local pubs it has gone so fast and i would love to hear from you again and come to see you play the great music that you and debbie play together; it is lovely to know that you are now married i just new you two would end up together you make a great couple; i have two lovely daughters now and am very happy please reply to this brian or deb i would love to hear from you both ;we had some great times didnt we all x x x x
BEST WISHES LENNIE SPENCE

20 March 2008 - DAGENHAM ESSEX
---
Steve Paul |

Just back from a weekend in london and took the opportunity to track Brian and Debbie down; They were playing at the Horn of Plenty in Stepney Green; We had a great night Brian and Debbie were very accomodating as were the locals; Brian played Reputation to lots of cheering and very loud whiistling from the now drunk northeners; All in all a great night many thanks to Brian and Debbie hope to see them again sometime; check them out via the gig list; Steve & Jan from Sunderland

4 March 2008 - Sunderland
---
Webmaster comments Glad to hear you enjoyed the night. Brian and Debbie are very accomodating to everyone and especially to hear they played Reputation for you.
---
Jacqueline Palmer |

Great to go down memory lane with this site; Julie and i visited chesser many times in our youth to catch up with colin and brian; Saw some great gigs with bilbo baggins and were always there at any Dundee gigs; The newer material from Brian is fantastic; Thanx for a great youth of growing up with your music and time X

21 February 2008 - Dundee Scotland
---
<<< 1 2 3 4 5 6 7 8 9 10 11 12 13 14 >>>